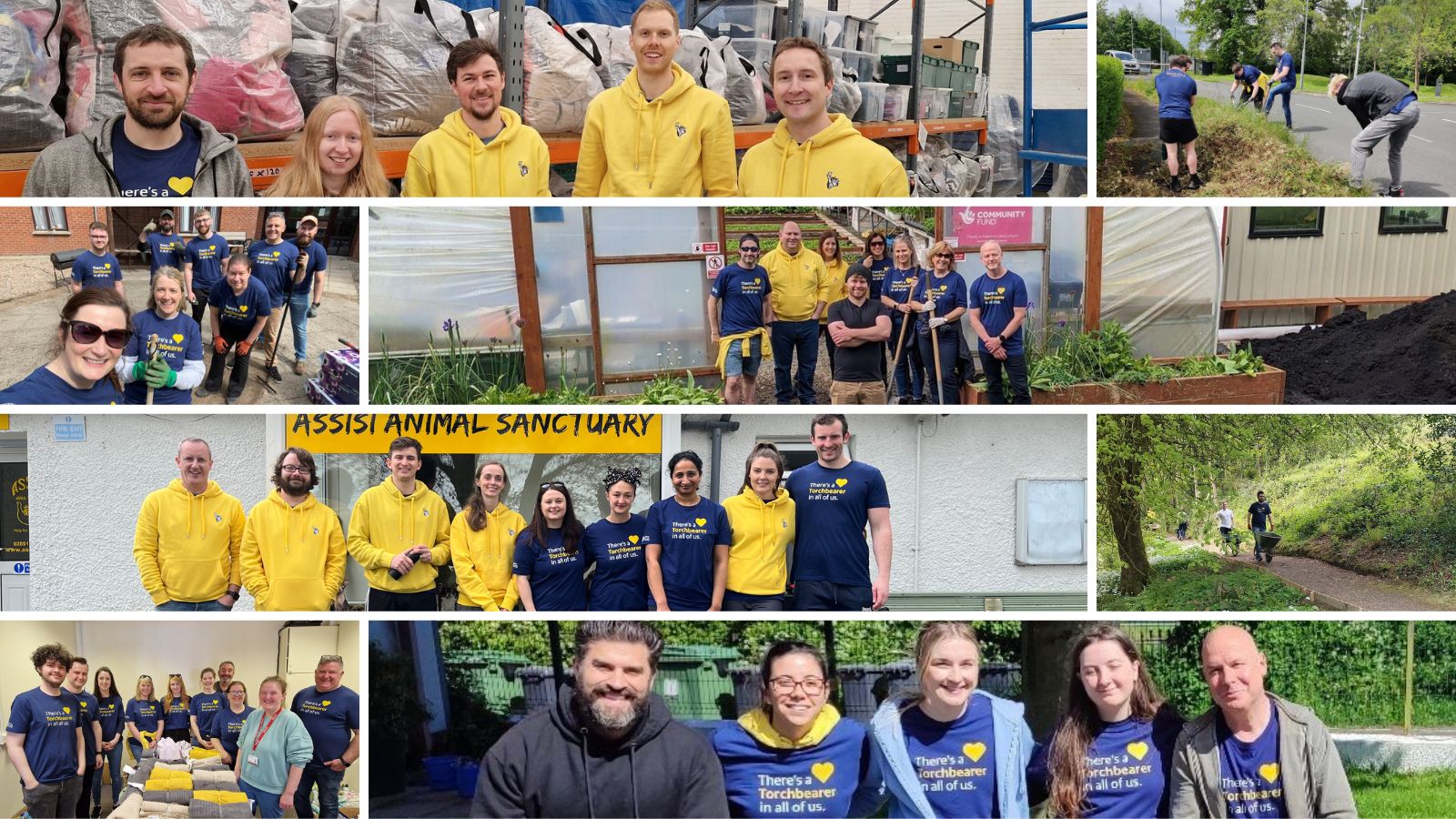 At Liberty IT we take pride in giving back to our communities, so we're thrilled to share that in May, 115 Liberty IT employees took part in our Serve with Liberty days.
A global initiative run by our parent company Liberty Mutual, Serve with Liberty allows each employee a day of working time to spend volunteering for local charities. The charities we've supported this year include Assisi Animal Sanctuary, National Trust, Ravine, Simon Community, St Francis Hospice and Storehouse.
Rebekah from Simon Community told us, 
'We were delighted to have Liberty IT on site with us, supporting different projects over three days. Our outdoor spaces are just vital to the health and wellbeing of our client groups, helping them make connections and learn new skills, and we couldn't develop those sites without volunteers. Our clients really value these spaces and can genuinely see that they do matter to people in the community.
'Having volunteers make packs for families in our Simon's Pantry, in a time of a deepening cost of living crisis, was a wonderful reminder of hope and support, that means so much to a client moving into our services. Having a pack that meets their practical needs and gives them true dignity is invaluable in the midst of a really dehumanising experience. Without volunteer engagement, this project simply wouldn't happen.
This has been our best year for volunteer participation to date and a massive thank you to everyone who brought their energy and passion to their days with us.'
Serve with Liberty gives us an opportunity to meet up in person, with team mates old and new, and make a real difference to causes in our communities. We've filled boxes of supplies for families, helped repair and restore gardens and pathways, and even played with some puppies
Employees who took part told us how important it was for them to make a positive contribution to local causes and how rewarding it was to see the impact a few hours of their time could make.
Ellen helped to organise the volunteering days as part of our LIT Giving employee-led group and said,
'It makes me feel immensely proud to work for Liberty IT and alongside people who genuinely care and are passionate about making a difference in our local communities. For me, it's a shining example of how we bring our values to life, striving to make things better for others.'
We know how valuable our impact can be on the communities we live and work in, and we look forward to continuing our support for local causes in the future. 

Our community engagement
Our employee-led groups support employee wellbeing, good causes and more.