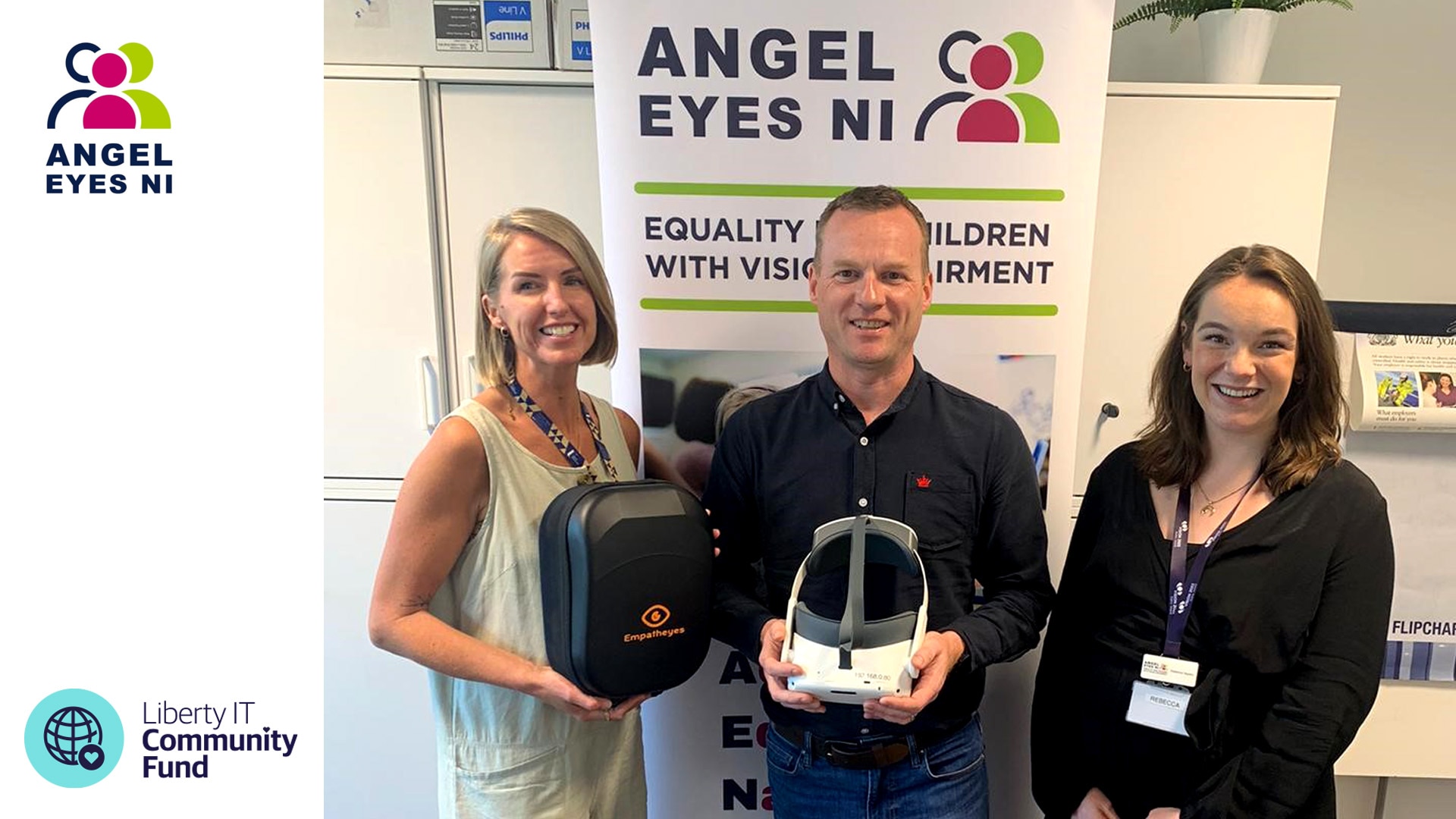 At Liberty IT, we are dedicated to making a difference in the communities where we live and work. To mark the end of our 25th anniversary year, our employees nominated charities and causes close to their own hearts, to receive a share of our Community Fund. 
Spotlight on Angel Eyes
Colin, from our Learning & Development team, applied earlier this year where he secured funding for the charity Angel Eyes.
The money donated to Angel Eyes has allowed their team to visit schools across Northern Ireland and give demonstrations to those involved in educating children.
Through their work, the charity has developed software that is used within VR headsets, to help those in educational settings fully understand what a child with visual impairment encounters daily.
The Angel Eyes team delivers impactful training demonstrations to a diverse range of schools. Using VR headsets, they allow the audience to experience what partially sighted children see.
Employee involvement
After visiting them to learn more about the impact the funding has made to this project, Colin said,
"I had the opportunity to try on the headset too and was amazed in several ways. It is truly remarkable how some children manage to get through the day and navigate their environments with the vision they have. Some simple adjustments can really make all the difference to their lives. We need our teachers, classroom assistants, principals and others involved in education to have access to these resources, so they can create an inclusive environment for all."
Colin, Learning and Development Manager
Our ongoing commitment
Our employees are the heartbeat of Liberty IT, and our Community Fund reflects their passion and values.
Supporting Angel Eyes is a testament to our collective desire to create meaningful impact. We're not just building software; we're building bridges to a more inclusive and empathetic society.
We're proud to support these initiatives and look forward to partnering with more organisations dedicated to making a difference in our communities.

Our community engagement
Our employee-led groups support employee wellbeing, good causes and more.