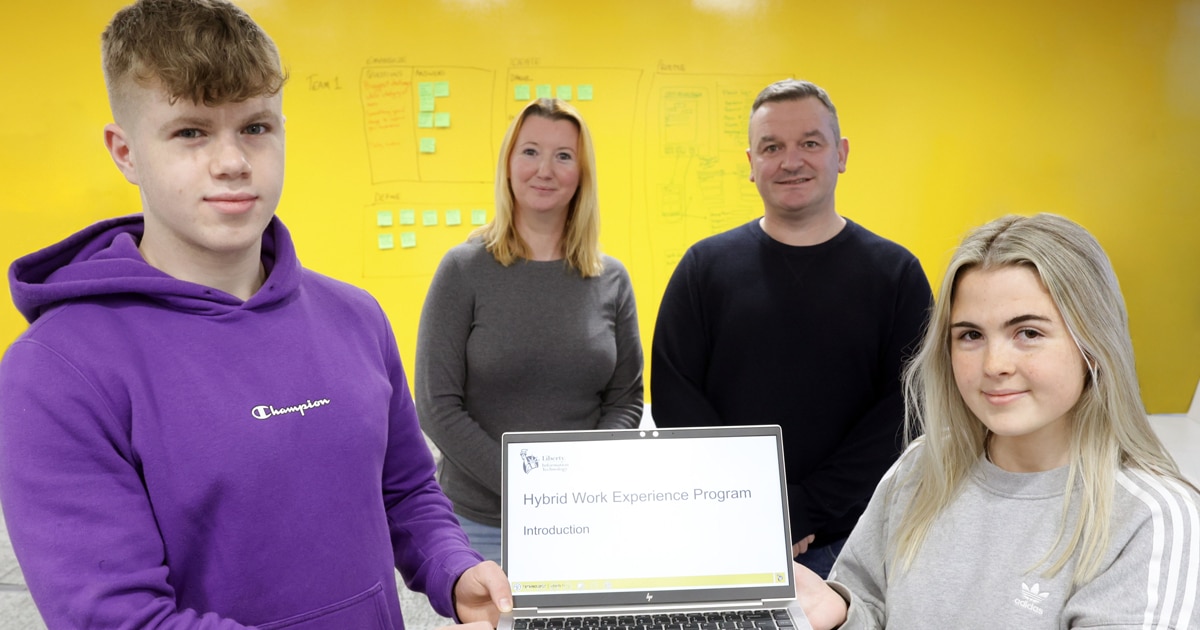 11 students from across Northern Ireland took part in our first Hybrid Work Experience Programme, gaining a unique insight into the world of Software Engineering, Product Thinking and Cyber Security.   
We have redeveloped our work experience programme in line with our post-pandemic working styles and launched a new three-day programme consisting of two days remote working and one day in our Belfast office. Students from Grosvenor Grammar School, De La Salle College, Methodist College, Belfast Royal Academy, St Malachy's College, St Louise's Comprehensive College, Cross & Passion College in Ballycastle, Dalriada School in Ballymoney and Cambridge House Grammar School in Ballymena participated in the first intake.  
During the action-packed three days, students had the opportunity to learn about programming language through Python and Java Script whilst completing simple challenges along the way; found out about the Future of Tech from an Incubator Engineer; worked in breakout groups with other students; met with a Recruitment Consultant who provided lots of helpful hints and tips on CVs and interview techniques and spent the day in the office to see some of our live projects for themselves. 
June O'Flaherty, Leadership Support Assistant and Work Experience Co-ordinator said: "Liberty IT's work experience programme has always been hugely popular and to enable us to continue with it during the pandemic we transitioned to a fully remote programme. With the changes to the way people are working and to reflect the flexible working styles our employees are now offered, we were delighted to launch our new Hybrid Work Experience Programme.  
The new programme was designed by our STEM Employee Resource Group which actively promotes STEM careers to young people and is an area we are very passionate about at Liberty IT. Work Experience is hugely important for this age group, not only to find out what they like doing, but also to find out what they don't like and to expose them to paths they may not have considered before. We are confident that the programme gives a fun and exciting insight what it's like to work in IT and inspires students to consider it as their future career."  
Daniel Hazley, a pupil from Grosvenor Grammar School said: "I really enjoyed my work experience with Liberty IT and found the three days really informative - I could not recommend it enough.  It was great to learn new code, explore thinking through problems with a team and getting to spend a day in the office and meet everyone in person. It was clear that there was a lot of thought put behind the programme and it has definitely given me an interest to explore a career in tech and I hope to one day step through the doors of Liberty IT again." 
"We are delighted with the response from the first intake of students who all said that they felt it was of huge benefit to them. They liked the mix of remote working and the day in the office as in-person interaction gives a better connection with the people you work with – especially when you are starting off in your career. Next year we will be running three Hybrid Work Experience Programmes, starting with Data Science in February, and we are really looking forward to introducing more students to the world of digital innovation and the endless possibilities a career in tech provides," June added.